The centre of Minoan civilisation and capital of Minoan Crete lay 5km south of Heraklion.
Knossos flourished for approximately two thousand years. It had large palace buildings, extensive workshop installations and luxurious rock-cut cave and tholos tombs. As a major centre of trade and the economy, Knossos maintained ties with the majority of cities in the Eastern Mediterranean.
Wealth accumulation and the advancement of an urban lifestyle were the hallmarks of this zenith, which began circa 2000 BC and was typified by magnificent monumental buildings and a complex social structure.
The Minoan palace is the main site of interest at Knossos, an important city in antiquity, which was inhabited continuously from the Neolithic period until the 5th c. AD. The palace was built on the Kephala hill and had easy access to the sea and the Cretan interior. According to tradition, it was the seat of the wise king Minos. The Palace of Knossos is connected with thrilling legends, such as the myth of the Labyrinth, with the Minotaur, and the story of Daidalos and Ikaros.
The first excavation of the site was conducted in 1878 by Minos Kalokerinos of Herakleion. This was followed by the long-term excavations 1900-1913 and 1922-1930) of the Englishman Sir Arthur Evans, who uncovered virtually the entire palace.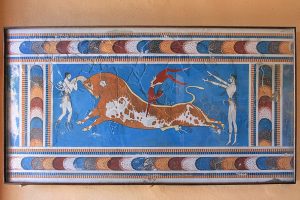 See more
Archaeological Site (

)